Accelerating Value with Technology Business Management
During this webinar, Ashley Pettit, Senior Vice President and CIO for State Farm, will share how State Farm has leveraged the Technology Business Management (TBM) framework and their success stories. Recently, Ashley was also named TBM Council's Chairperson.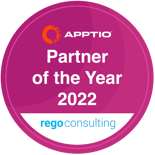 Speakers
Tim Pietro
VP Business Development
Rego Consulting
Tim Pietro recently joined Apptio Partner of the Year – Rego Consulting. Tim has spent his career pioneering new solutions that empower companies to leverage enhanced visibility into their IT spending to redistribute more toward growth and transformation. Tim spent the majority of his 25-year career at Cisco Systems in IT followed by leadership roles at VMware and ServiceNow. Tim has been a key part of the cross-industry team that developed the Technology Business Management (TBM) framework. In addition to his role at Rego Consulting at VP of Business Development, he continues to cultivate a strong presence throughout the industry as a member of the TBM Council Steering Committee and was recently published in The Next CIO, which is an Amazon best seller. He has been invited to the White House multiple times to help support our US CIO on the 2023 TBM Public Sector mandate and continues to support that effort.
Tim's expertise comprises of over 15 years of experience in the TBM space. His focus is on operationalizing TBM across the IT Organization with a focus on organizational change management and governance.
Ashley Pettit
CIO/SVP Enterprise Technology
State Farm
Ashley Pettit is CIO and Senior Vice President (SVP) of Enterprise Technology for State Farm Mutual Automobile Insurance Companies at their corporate headquarters in Bloomington, Illinois. Pettit's role includes oversight for infrastructure, IT operations, architecture and engineering practices, IT services and data and analytics support for the enterprise.
Pettit sponsors the Women & Technology Employee Resource Group within State Farm and is active in sponsorship of STEM activities across the community, including support for Millennium Girls (a one-day technology event for 5th- through 8th-grade girls), Junior High STEM camps, incorporation of STEM into summer day-camps, as well as partnership and support to define and implement STEM curriculum in several local school districts at K–12 levels.
In 2017, Pettit was named McLean County YWCA Woman of Distinction for her efforts in STEM and was selected as 100 Corporate Women Leaders in STEM by STEM Connector.
Pettit received a bachelor's degree in Finance and Computer Information Processing from Southern Illinois University and a master's degree in Management from American College. She also earned the Chartered Life Underwriter and the Chartered Financial Consultant designations.