Accelerating Value with Technology Business Management
During this webinar, Shana Berger, Senior Director of TBM at Children's Health System of Texas will share how their organization has adopted the TBM Framework and their success stories. Then, she and Tim Pietro will also explore one of Tim's favorite topics - organizational change leadership (i.e. the TBM Journey Map).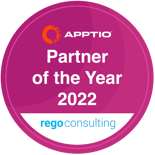 Speakers
Tim Pietro
VP Business Development
Rego Consulting
Tim Pietro recently joined Apptio Partner of the Year – Rego Consulting. Tim has spent his career pioneering new solutions that empower companies to leverage enhanced visibility into their IT spending to redistribute more toward growth and transformation. Tim spent the majority of his 25-year career at Cisco Systems in IT followed by leadership roles at VMware and ServiceNow. Tim has been a key part of the cross-industry team that developed the Technology Business Management (TBM) framework. In addition to his role at Rego Consulting at VP of Business Development, he continues to cultivate a strong presence throughout the industry as a member of the TBM Council Steering Committee and was recently published in The Next CIO, which is an Amazon best seller. He has been invited to the White House multiple times to help support our US CIO on the 2023 TBM Public Sector mandate and continues to support that effort.
Tim's expertise comprises of over 15 years of experience in the TBM space. His focus is on operationalizing TBM across the IT Organization with a focus on organizational change management and governance.
Shana Berger
Senior Director of TBM
Children's Health System of Texas
Shana Berger is the Senior Director, Technology Business Management, at Children's Health in Dallas. She has over twenty-five years of healthcare financial operations experience and has been with Children's Health for more than sixteen years. In her current role, Shana serves as the principal aide and advisor to the CIO, helping to envision and integrate IT strategic and operational plans that align IT priorities and actions in support of Children's Health's organizational goals. Children's Health began its journey with Technology Business Management in July 2018, first implementing IT Planning and then moving on to Cost Transparency.